The Nest Sanctuary takes in dogs that others turn away because they are old, ill or simply have become an inconvenience. Some of the dogs come with challenging behaviors. We mainly accept animals from local animal shelters where often they cannot be cared for properly or where they are deemed unadoptable. At the Nest we make sure they receive everything they need – physically, emotionally and psychologically – to thrive and live out their lives happily. What makes our sanctuary unique is that it consists entirely of a home like environment. A dedicated group of volunteers takes care of our sanctuary dogs in their actual homes. The largest group of dogs lives with the Nest founder and director. Her place offers a large and beautiful all fenced in garden where the Nest pups can spend as much time as they wish. They are allowed to dig holes, they can safely chase each other around, roll in the grass, lounge in the sun on cozy dog beds, nibble on the vegetables planted for their delicious veggie smoothies and do whatever else makes them happy. We believe that just like people, every dog is unique in their needs. We connect closely with each individual dog and make sure he or she gets what we think is best both physically and emotionally. Our daily routine includes holistic care addressing every aspect of each dog's needs. We provide high quality often home cooked meals enhanced with supplements according to their needs, medications, massages using therapeutic grade essential oils, aromatherapy, Reiki, music therapy, and most of all we shower them with love.
Meet our sanctuary pups:
Maybelle (Approx. 8 years old) 
(Needs – medical) About 5 years ago Maybelle came to us from a local animal shelter where her owner dropped her off because she knew Maybelle was ill but shecould not afford to have her seen by a vet.  Upon arrival at the animal shelter, Maybelle was unable to walk and she had a head tilt.  Staggering walk and head tilt usually indicates vestibular disease and it is important to determine its cause in order to treat it appropriately.  Our veterinarian referred us to a neurologist.  Unfortunately the test results showed that Maybelle had a brain tumor and that she would not live longer than a few months.  While in foster care Maybelle was treated with prednisone to attempt to slow the tumor growth, the prednisone then caused a skin condition called calcinosis cutis.  Due to the severity of her skin condition she went to The Nest where director Sabine could treat her and monitor her closely.  The good news is that with treatment her tumor disappeared!  However, by then she was so comfortable at The Nest that we decided this would be her home, where her condition could be treated and monitored closely.
Albert (Approx. 5 years old)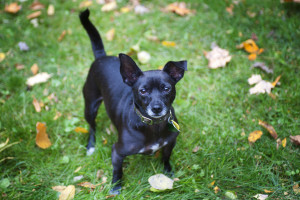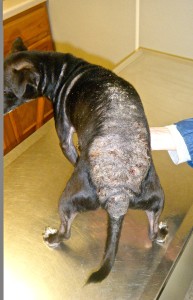 (Needs – behavioral) Albert lived the first year of his life hiding behind a dumpster at an apartment complex. People would occasionally throw him some food because they felt sorry for him but no one could get near him.  Albert was obviously not socialized as a puppy and as a result he did not trust humans. Eventually a tenant called the humane society and Albert was captured with a life trap and taken to the local animal shelter. Besides serious behavior issues, Albert was in very poor physical shape: he had a very bad skin infection due to flea infestation, and he tested positive for heartworm. A bigger problem though was his behavior: he would not let anyone near him and growled when people would even just look at him. He bit several shelter workers when they attempted to handle him. Dogs with these issues are not put on the adoption floor at shelters and are normally euthanized. Thankfully, the shelter director contacted us. We wanted to give Albert a chance. To this day he cannot be trusted with strangers and he still bites when handled by anyone other than Nest director Sabine. At The Nest, Albert is obviously very happy and all his needs can be met. He will live there for the rest of his life.
Logan (Approx. 5 years old)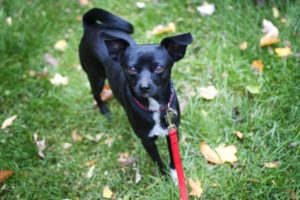 (Needs – behavioral and medical) Logan came to us from a local veterinary office.  A staff member had observed him wandering the streets for a very long time and finally managed to lure him into the lobby.  The vet staff named him Mr. Hobo. Rightfully so – he is an escape artist.  He was also poorly socialized and bit everyone he did not know. After three foster homes and multiple escapes during the course of two years he came to The Nest Sanctuary where he was named Logan.  He is very happy at the Nest Sanctuary and it is clearly the place where he feels most comfortable and safe.  Medical:  Paraphimosis (inability to retract penis back in to the sheath; has to be done manually)
Levi (Approx. 8 years old)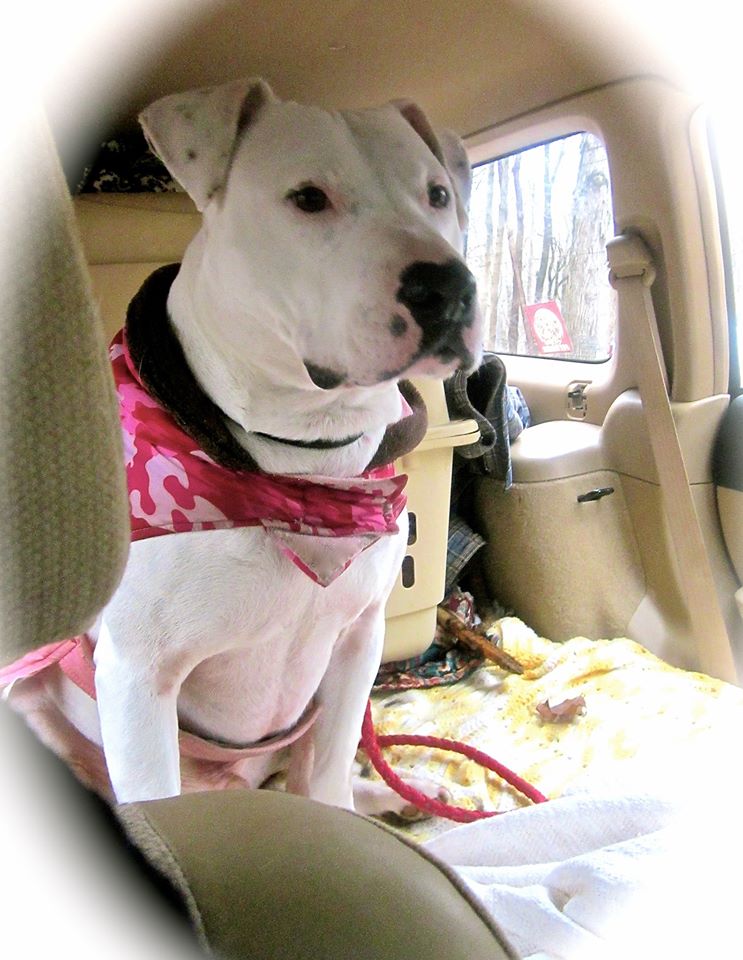 (Needs – behavioral) Levi was rescued from a bad animal neglect case over 5 years ago. Together with two other pit bulls he was left outside in the bitter cold and he was near death when animal control finally seized him together with his brother (the third one was dead.) Levi was nursed back to health, properly socialized and received basic obedience training at The Nest. Levi was re-homed twice but in both cases the owners became overwhelmed by his needs for extra attention, exercise and his needs for ongoing appropriate behavior modification work.  We found that Levi was most balanced and happy when he was with us at the Nest Sanctuary.  As a sanctuary resident, he is in an environment that is best suited for him and where he can live his life as a cherished Nest family member.  Medical: Had one ACL (anterior cruciate ligament) repair, may need another one in near future.
Roscoe (Approx. 9 years old)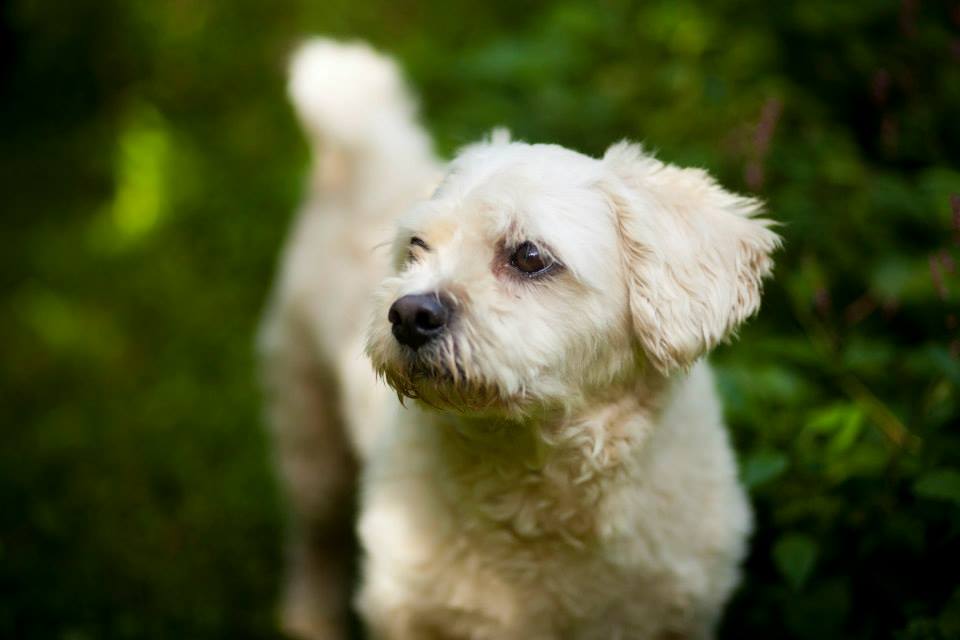 (Needs – behavioral) Roscoe came to us from a local shelter.  He ended up there because he nipped/bit the children in his family.  We don't know what exactly led up to Roscoe's very particular behavior of being extremely reactive whenever you try to touch him in a certain way (any sort of grooming effort, trying to apply flea preventative, pulling a leaf off of his coat, holding him by the collar).  He was terrified of the broom and extremely reactive with it as well so it is possible he was abused.  In the years we have had him, he has come a long way. He is actually a very sweet dog and loves people he is familiar with and trusts.  However, he is still very unpredictable with strangers and he suffers from separation anxiety when he is away from home over night.  Roscoe is very happy at The Nest and will live out his life at the Sanctuary.
Bernie (Approx. 15 years old)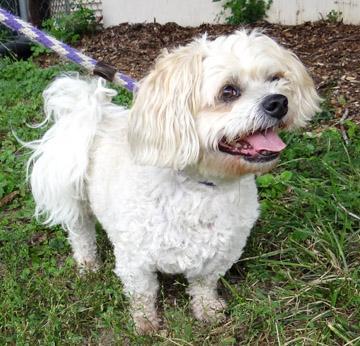 (Needs – behavioral) Bernie came to us several years ago from a local animal shelter. He had been surrendered by his owner because he bit someone in the family.  We found him a home with someone who truly adored him and who was willing to work with him on his behavior. Unfortunately, despite many efforts, he continued to growl at visitors bark at every stranger he encountered. Bernie was returned to The Nest and was again placed in a home, then returned to the Nest again due to his behavioral issues. Bernie is most happy at the Sanctuary where he has decided that it is his secure nest. He gets to go for walks on a private nature trail, sniff flowers and bask in the sun, and he gets all the attention and love he desires.
Chloe (Approx. 10 years old)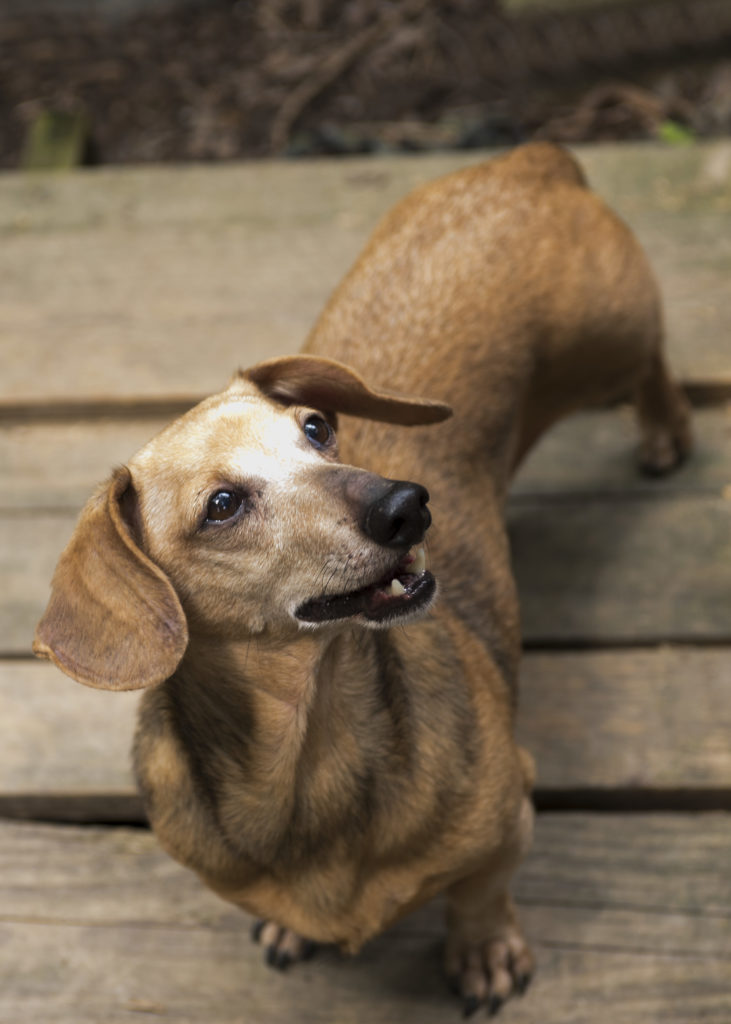 (Needs – behavioral) Chloe was taken to a local shelter when her humans moved.  She was terrified there and bit everyone who tried to touch her.  That was 6 years ago.  Chloe never entirely came out of her shell and is still very skittish and leery of strangers. The only person she trusts 99% is her forever foster mom who has been working with her from the beginning.  When she is in her trusted environment, she is very happy. Her favorite thing is to dig large holes in the ground!
Titus (Approx. 12 years old)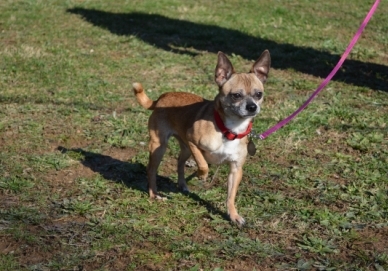 (Needs – behavioral) At about 5 years old Titus was abandoned/dropped off in a crate at a vet office together with his brother Brutus (he got adopted as he was very friendly). Upon arrival at The Nest, Titus was extremely timid and cowered and screeched when you approached him and tried to touch him. He is very particular about which humans and dogs he wants to interact with and it took him a very long time to become more comfortable around people. To this day he stil has reservations about being touched. He is also an escape artist and was determined to go running the streets a few times. He needed a fenced in area wherever a door opened to ensure that he could not escape. With low interest in him from potential adopters, his special needs, and him beginning to feel at home at The Nest sanctuary, we decided to make it his forever place.